What is Chicken Divan?
Chicken Divan is one of those classic comfort foods that remind you of home.
It was created in the 1940s by Lagasi, a contest winning chef who's dish became the signature on the menu of the Divan Parisienne Restaurant in New York's Chatham Hotel.
This classic American recipe is the type of dish your mom would make back in the day. It usually calls for canned mushroom soup and a good amount of mayonnaise. With its cheesy cheddar topping and breadcrumbs topped with butter, it certainly is a crowd pleaser! 
A Healthy Chicken Divan Recipe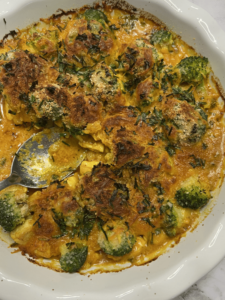 Our Chicken Divan recipe is lighter and healthier but still indulgent with flavors that pack a punch. The star of this recipe is of course our famous Grilled Chicken Spice Mix! One of our best sellers, this spice mix is one of our favorite ways to season chicken, and much more. It is flavorful but not overwhelming with a distinct hint of Jerusalem.
The second essential for this recipe is the Sea of Herbs Curry Spices. The curry spice adds a twist of flavor that goes surprisingly well with cheddar cheese and broccoli. We love curry powder because it is rich in anti-inflammatory properties and can be added to many dishes which is why we think it's a great staple for your spice rack. 
This yummy and healthy version is tangy but still has the comfort food ingredients like cheese and breadcrumbs. We've swapped out the canned mushroom soup and tons of mayonnaise for a saucier version with a Mustard-Aioli sauce, lemon juice, water and spices. 
Tips for the perfect Chicken Divan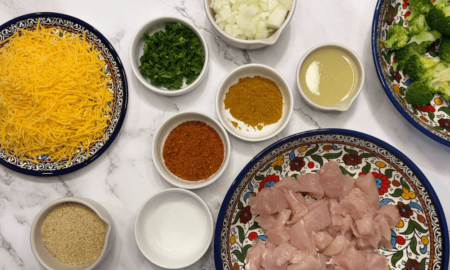 The key to getting maximum flavor without adding too many calories is to choose the right spices! Luckily for you, Sea of Herbs has got the best spice mixes for you whether you are making traditional Middle Eastern dishes or International cuisine. Our spices will add a special something that brings out the flavor of your meats, grains and vegetables that will allow you to cook with confidence and consistency every time! 
The Spices
The spices that will elevate this dish are definitely the Sea of Herbs Grilled Chicken Spices. A flavorful, potent spice that actually makes anything taste amazing including other meats and vegetables. The beautiful natural red hue of the spices and its fragrance will make your chicken and sauces look and smell amazing! 
The Sea of Herbs Curry Spices is another favorite of ours for adding to rice, sauces and curries. Our curry spice is unrivaled in balance of flavor and freshness, you will definitely want to keep some in stock in your spice rack. The warmth and flavor of the Sea of Herbs Curry Spices will complement the sauce, the broccoli and the Cheddar Cheese. 
A simple recipe
What we love about this recipe is that it is simple and doesn't require you to slave away in the kitchen all day. The beauty of this recipe and dish is that it allows you to add your own variations according to how indulgent or light you want it. And sometimes according to what ingredients you have in your kitchen. 
The Aioli or Mayonnaise mixture
The original Chicken Divan Recipe usually calls for tons of Mayonnaise and canned mushroom soup. With this recipe to keep it light we used a mixture of Aioli-mustard and lemon juice but you are more than welcome to use Mayonnaise and chicken stock because the sauce does tend to dry out. Having that extra sauce, especially for leftovers will make this dish a treat to eat the next day! 
Substitutions
For a creamier Chicken Divan use:
1.5 cups of Chicken Stock instead of the water and the lemon juice.

 

3 tablespoons of Mayonnaise instead of the Mayo-Mustard.

 

Add 1/2 cup of extra Cheddar Cheese on the top to make this casserole more decadent.

 
Vegetable Substitutions: 
While Chicken Divan and broccoli are inseparable there are some who aren't broccoli fans. Feel free to omit the broccoli or even add peas and carrots to the filling. There are no hard rules here!
The most important thing is to enjoy making, sharing and eating what you lovingly create in the kitchen.
If you have tried this recipe and you like it, share your dishes with us, we'd love to hear from you! Also feel free to reach out if you have any questions about the recipe or our spices.

 
Recipe:
Ingredients:
1 lbs Boneless chicken cut into cubes
1 medium sized chopped onion
1 teaspoon of salt
1 crown of broccoli

 

1 cup of water

 

2-3 tablespoons of breadcrumbs

 

1 cup grated cheddar cheese

 

2 tablespoons of Aioli or Mustard-Aioli

 

3 tablespoons fresh lemon juice
Olive Oil (for the pan)
Chopped Fresh Chives (for Garnish)
Instructions:
Preheat oven to 400ºF.
Heat a couple of tablespoons of Olive oil in a large skillet over medium-high heat. Add chicken and cook, and then add the chopped onions, allow them to cook for a few minutes.

 

Next, you will want to add your spices. Add salt, the Sea of Herbs Grilled Chicken Spice and the Sea of Herbs Curry Spice to your pan until it sizzles.

 

Stir in your aioli and lemon juice and stir the ingredients until the sauce thickens and comes to simmering point and then remove from heat and set aside.

 

Wash and cut up your broccoli head into bite-sized florets. Now it's time to steam the broccoli. In a new saucepan add 1 inch of water (you can also add a steamer if you have one). Place the broccoli in the water and cover the pan over medium heat and let it cook for 5 minutes. Remove from heat and drain. Check out this recipe on Simply Recipes by Elise Bauer to steam broccoli.
In your casserole dish you want to add your chicken mixture, and then evenly distribute your broccoli florets in the pan.

 

Top with your Cheddar Cheese and then sprinkle the breadcrumbs over the casserole. Lightly Spray olive oil on top to add crunch to your breadcrumbs. Or you can coat your bread crumbs in butter. Garnish your dish with freshly chopped chives for color and flavor.

 

Bake for 15 minutes until the top is golden and the filling is piping hot!