Zaatar Manaqeesh Recipe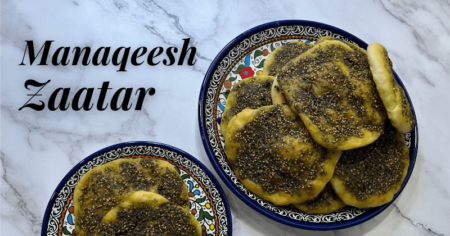 This tasty recipe is super easy to make and will make preparing for breakfast and lunch boxes a breeze. The key to a good Zaatar Manaqeesh recipe really is in the Zaatar. At Sea of Herbs we make our Zaatar blend in fresh, high quality batches to give you that consistent authentic Jerusalem Zaatar flavor. Visit www.seaofherbs.com to explore world renowned spices, natural beauty, hair care and more! 
Zaatar is one of those staple spices that can be found in most Middle Eastern homes. It is budget friendly and it makes for a delicious and nutritious meal or snack. 
Check out Zaatar Manaqeesh recipe by clicking the link below:
What is the Zaatar Spice made of?
Different Zaatar blends can vary but it mainly consists of Wild Thyme that is native to Jerusalem and the Middle East, Sumac spice, Sesame seeds and salt. 
And while you probably don't need an excuse to eat these scrumptious Zaatar Manaqeesh do you know about the many health benefits of Zaatar? 
Zaatar Health Benefits:
Zaatar is a wonderful immunity enhancer, has anti-inflammatory properties and antioxidants as well as ingredients like Quercetin which helps prevent chronic diseases such as cancer.
Increases Cognitive Power
The Zaatar spice is often given to students as part of their daily diet in the Middle East because it is believed that it can help boost your brain power. This makes sense because Zaatar can increase blood circulation and oxygen to the brain, boosting cognitive ability and memory. 
Zaatar contains the compound Phenol which has been found to improve your mood and reduces the risk of depression by increasing feelings of optimism. 
It increases energy and is packed with nutrients to make you feel energized and increases metabolism.
It's great for your respiratory tract and congestion and contains expectorant qualities which allow you to cough out mucus and phlegm. Thyme is often used for people suffering from the cold and flu and asthma and enhances your immunity to fight off illnesses. 
Zaatar has a high content of ingredients like iron, magnesium and calcium which with regular consumption can reduce the risk of bone conditions like Osteoporosis. 
Zaatar has anti-inflammatory, anti fungal and antiseptic properties which can promote smooth skin texture, heals your wounds and skin problems. 
Some tips and notes about the recipe:
By now I'm sure you are super excited to jump into the recipe! What we love about this recipe is that it is simple, easy and consistently produces a delicious batch of Zaatar Manaqeesh you will be proud of and your loved ones will fight over. Feel free to add or reduce your flour according to how dry the dough is. The goal is for dough to be a little wet but not too sticky. 
For the Zaatar mix, we highly recommend using the Sea of Herbs Zaatar for that rich, authentic Old City of Jerusalem flavor and texture. We also recommend using Extra Virgin Olive Oil for your Zaatar topping for the best flavor and color. The consistency of the Zaatar mixture is completely up to you! Some people like to lay on the Zaatar thickly with less oil while others prefer and an oily consistency that dilutes the Zaatar mix. As we mentioned before we like our Zaatar mix as you can see in our video tutorial somewhere in the middle where you can enjoy the richness of both the Zaatar's flavor and crunch as well as flavoring our dough in Olive Oil. 
Another tip is to keep an eye on them in the oven around the 10 minute mark as they tend to burn and harden quickly depending on how thick and large your Manaqeesh are. 
If you plan on freezing them, it's a good idea to under cook them so that when you reheat them in the oven they'll be fresh tasting and fluffy. Feel free to add toppings of your choice such as cheese or Labneh. They taste amazing on their own or with some fresh chopped mint and sliced tomatoes. Sahteyn! 
Ingredients:
Dough:
4 cups of flour
1 tablespoon of sugar
1 teaspoon of salt 
1 sachet of instant yeast (0.75 oz) 
1/2 cup of warm water 
1/2 cup of warm milk 
2 tablespoons of yogurt 
1/2 cup of canola oil
Zaatar Topping: 
1 packet of Sea of herbs Zaatar (100gm)
Extra Virgin Olive oil (the amount depends on the consistency you desire). 
Method:
In bowl add your water, milk, sugar and yeast. Stir the ingredients and then add the yogurt, salt and oil. Add your flour gradually, to avoid drying out your dough. knead your dough until it firms up but is still slightly wet. 
Transfer your dough to an oiled bowl (preferably Olive Oil) to give the dough extra moisture and flavor. Cover with cling film or a clean cloth for about an hour. 
Prepare your Zaatar topping by mixing the Sea of Herbs Zaatar with some extra virgin Olive Oil. The amount of oil will depend on your personal taste. Some people like their Zaatar paste to be oiler or drier but we like ours somewhere in the middle! 
Preheat your oven to 420 F and cover your baking tray with parchment paper.
Once the dough has risen it will be wet but very easy to work with to shape and flatten. Shape your Manaqeesh on the tray into circles and then top each one with your Zaatar mix. You can make your Manaqeesh as big or small as you like. You can even experiment with longer shapes. 
Bake for about ten minutes or until light golden brown. You want to keep them nice and fluffy on the inside so don't feel tempted to keep them in the oven for too long. 
A great way to add Zaatar to your diet everyday is by sprinkling it on top of pizza, in a grilled cheese sandwich or on top of your cheese, Labneh or Hummus dip! Fresh, well-made Zaatar is always going to taste better and is healthier too. Shop our delicious Zaatar mix today and explore  our world famous spices!