What is Sumac?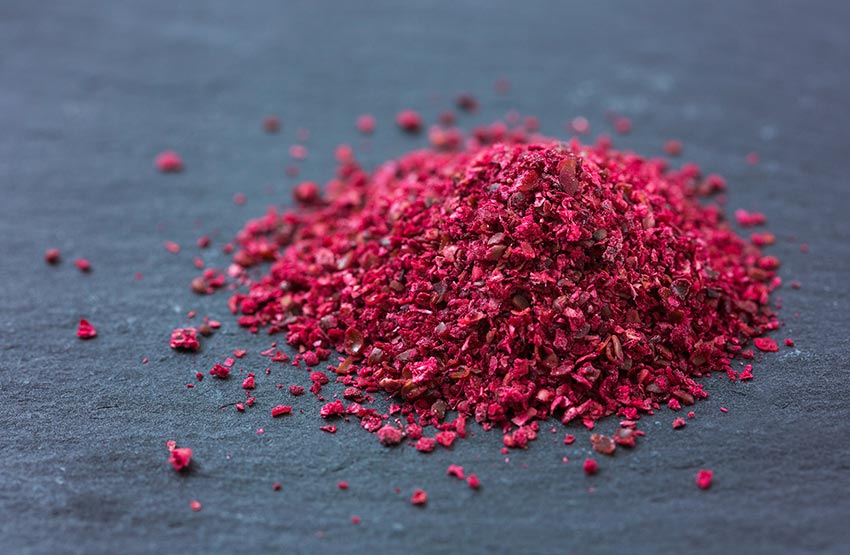 If you're Middle Eastern, you're probably familiar with Sumac. It's a staple spice in most Middle Easterners' homes. It's flavor profile is very complementary to Middle Eastern cuisine because it helps bring out the flavors of the ingredients it is cooked with to make a tangy and balanced plate. Sumac is the ruby colored spice extracted from the Sumac berries when they are dried and ground. Traditionally, Sumac is used as a spice, as a dye, and as a medicine. We would describe Sumac's flavor as tangy, sour and sharp. It adds flavor, texture and a vibrant red color to a dish. 
A super spice?
You can find Sumac as an in ingredient in Zaatar or as topping for Fatoush Salad. There are many ways to use it, but did you know that Sumac is considered a healthy super spice? We have records of its use as far back as the Roman times where it was used as an acidic spice before lemons were introduced to Europeans. It is said that it was prescribed for the Emperor Nero for its healing and anti-flatulent properties. Modern scientists are now studying the health benefits of this anti-inflammatory and anti-oxidant rich spice. 
Health Benefits of Sumac
Not only does Sumac elevate our taste buds, it also very nutritious and includes fibers, healthy fats and vitamins.
Sumac is Anti-microbial & anti-fungal
Sumac is Anti-microbial and anti-fungal spice which can help treat skin inflammation and disorders. Scientists are also studying Sumac amazing ability to fight bacteria like Salmonella and have found it can safely disinfect fruits and vegetables. Research has shown that Sumac has the amazing anti-microbial ability to stop the growth of common oral bacterial strains which lead to infectious diseases of the mouth. 
Inflammation is thought to be the cause of most diseases and Sumac is an anti-inflammatory spice that helps fight various disorders, colds and the Flu. Sumac is rich in many antioxidants like tannins and flavonoids and is the reason why researchers believe it may have healing properties. Basically, they work to protect your cells and body from oxidative stress which leads to inflammation and disease like cancer. 
As we discussed Sumac contains properties that are anti-oxidant and anti-inflammatory and packed with nutrients which help our body not only prevent diseases like heart disease, cancer and diabetes. 
Sumac may promote healthy blood sugar levels
High blood sugar levels can affect the body in many ways. It can cause fatigue, headaches and urinary tract issues. Over time it can also lead to nerve damage and kidney problems. Research studying Sumac and blood sugar levels has shown that the spice significantly decreased blood sugar levels. It may also help prevent insulin resistance which impairs blood sugar control.
Sumac may help ease muscle pain and menstrual cramps
Sumac is rich in antioxidant and may help in treating inflammation which can cause pain relief for chronic muscle aches and pains. 
Sumac is promotes healthy bones
Osteoporosis is a condition that about 25% of women may experience. Weak and brittle bones that increase the risk of bone fracture and other complications. Rat studies have shown that Sumac did help decrease bone loss. 
Sumac is a Diuretic which means it helps you remove toxins from the body through urine and is used traditionally to treat urine infections and digestive problems. (1).
With all of these health benefits and its delicious flavor, what's stopping you from ordering the freshest Sumac spice on the market? Click the link below to order Sumac and more great spice flavors on our website:
How to Eat Sumac and where to buy it
By now you're probably excited and curious about how to use this wonderful spice. Well, think of it the way you would use a squeeze of lemon. Furthermore, it is delicious as a finishing touch to add acidity and tanginess or you can use it in the cooking progress, such as baked potatoes tossed in spices and topped with Sumac. From dips and dressings, the possibilities are endless and you will love using something so healthy and delicious to your diet! One easy and delicious way to enjoy Sumac sprinkled over Hummus. 
Hummus with Sumac Recipe
Hummus is a chickpea based dip or spread perfect for a nutritious and delicious breakfast. Because it is packed with protein, fiber and nutrients it will keep you fuller for longer. Most importantly, it takes less than 15 minutes to make and you can store the rest in the fridge! The combinations for Hummus are endless as well, you can top with anything from pan fried meat and paprika to Sumac. In the recipe below we suggest adding Sumac for flavor and added health benefits. 
1 Can of Chickpeas
1/2 Cup Tahini 
1/4 Cup Fresh Lemon Juice
1-2 Cloves of Garlic
Salt to taste 
A sprinkle of Paprika
Sea of Herbs Sumac to taste
Olive Oil to taste 
1 tablespoon of Yogurt (Optional). Depending on the texture and the taste you are looking for. Some people like to add yogurt to Hummus. 
The beauty of Hummus is that it is quick and simple. First, put all your ingredients in a food processor or blender add all of  until you find the texture is well blended but still a bit coarse. You don't want a runny Hummus! Next, don't forget to taste as you blend so you can adjust the olive oil and the salt to your liking. Finally, top with sumac and paprika. For your kid's lunch boxes, why not make Hummus sandwiches? It makes a healthy and delicious school lunch!
With all of these health benefits and its delicious flavor, what's stopping you from ordering the freshest Sumac spice on the market? Sea of Herbs is proud to offer our world class spices to foodies around the world. Our family have been Herbalists and Spice makers in the Old City of Jerusalem for over 300 years. Click here to order the freshest Sumac and more great spice flavors on our website as well as natural beauty products and more.